# Server setup
# OS Download & boot media preparation
Congratulation! You've obtained all hardware and assembled server of your dream.
In this section we will install Ubuntu server 18.04LTS Server OS. You need to visit https://www.ubuntu.com/#download (opens new window) and download server software with LTS mark. LTS is Long Term Support, means you have many years ahead with no need to change OS version. Download size is less then 1 GB, but you need a 4GB or larger USB flash to install software
When download finished, prepare bootable USB flash from acquired ISO file, according to the instructions (opens new window)
Alternatively, tutorials available to help you create a bootable USB stick from both Ubuntu (opens new window) and Apple macOS (opens new window).
# Installing server operating system
This process is well described in docs (opens new window)
Installation process is very easy.
Language (choose english) (1/11)
Keyboard layout (choose english) (2/11)
"Install Ubuntu" (3/11)
Check network address (will be detected automaticaly if DHCP enabled (4/11)
Proxy (no proxy in home network in 99.9999%, skip it) (5/11)
Download mirror (choose default) (6/11)
"Use entire disk" (if you want to use all available space) and confirm disk partitioning. Do NOT use LVM (7/11)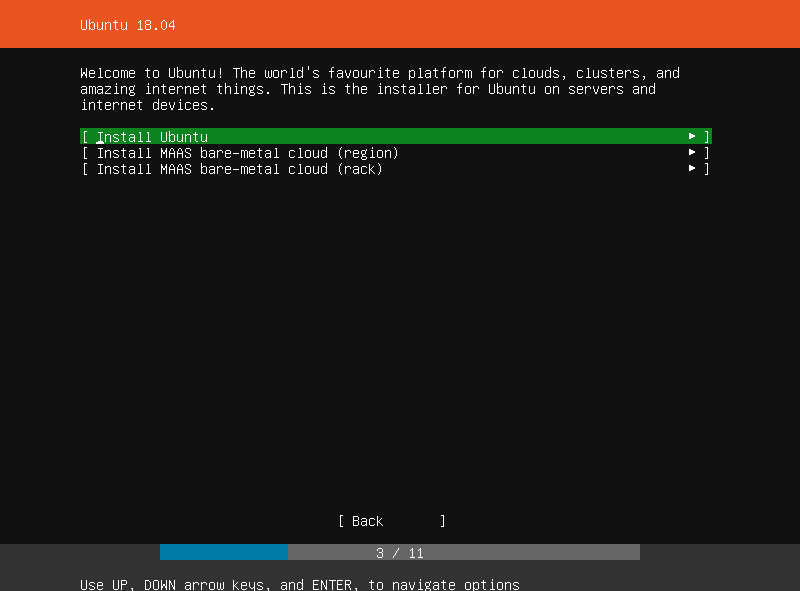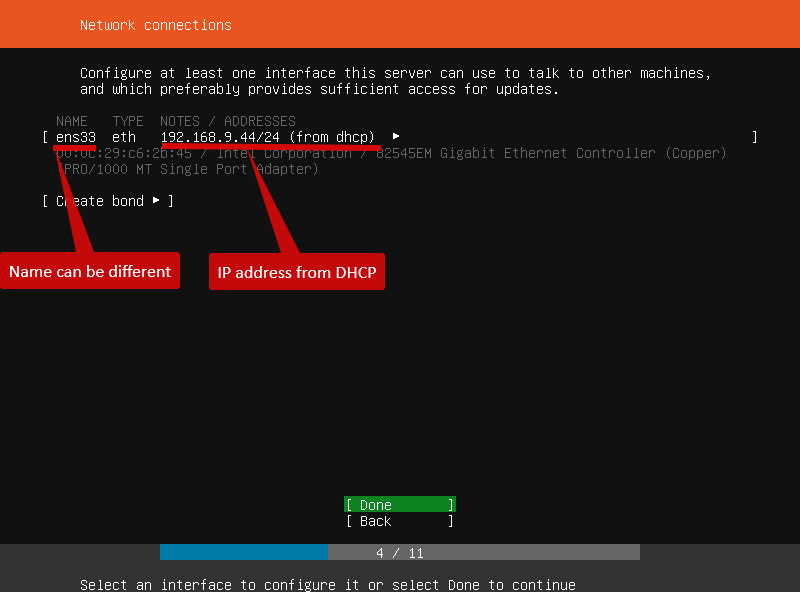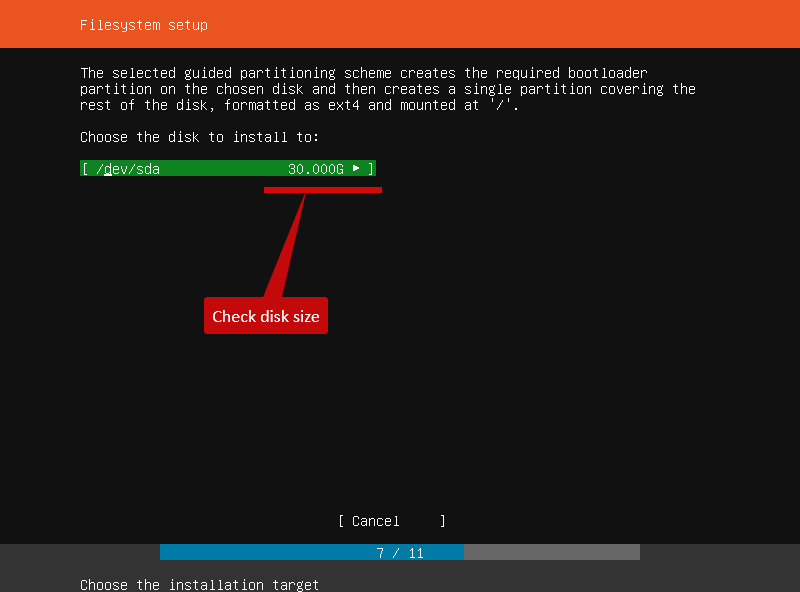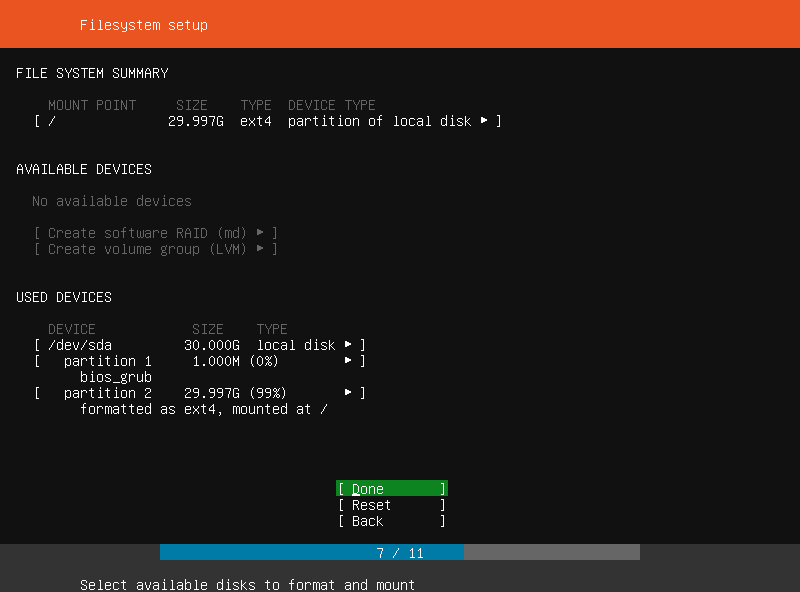 Choose name/username (enter same name, all in lowercase).
Choose server name. It MUST start from lowercase english letter and consist only from of "a-z" "A-Z" "_" "-" ) This means "7DTDServer" is not allowed name. "server7dt" is OK. (9/11)
Server snaps. Do not select, chose "done"to continue
Install finished! Choose "reboot now"
When you prompted to remove USB stick, do it and press enter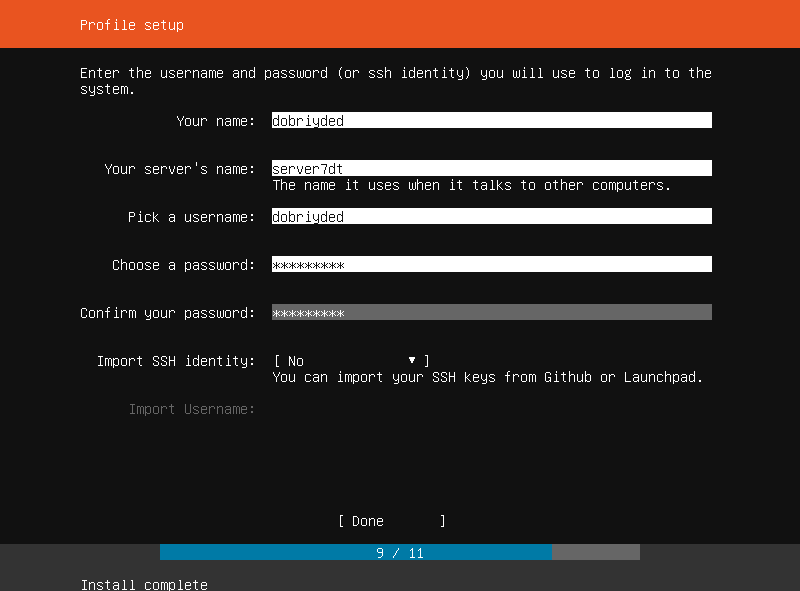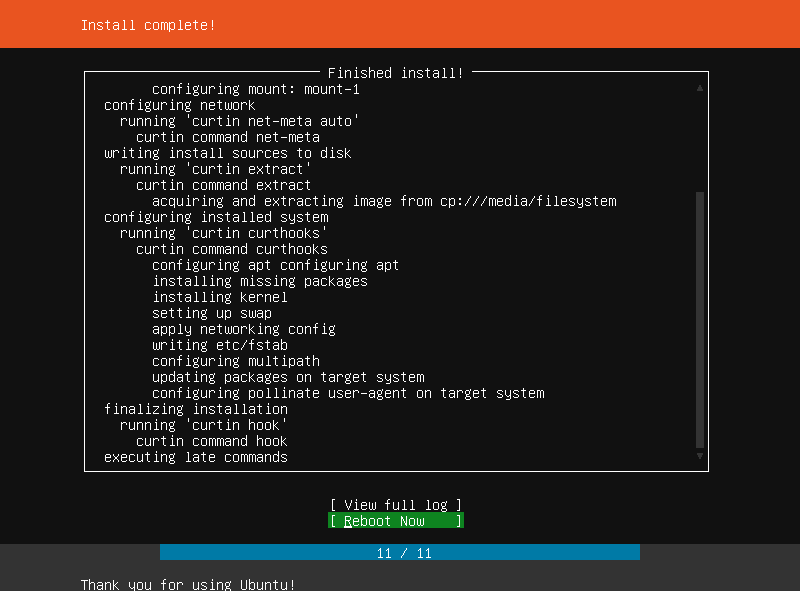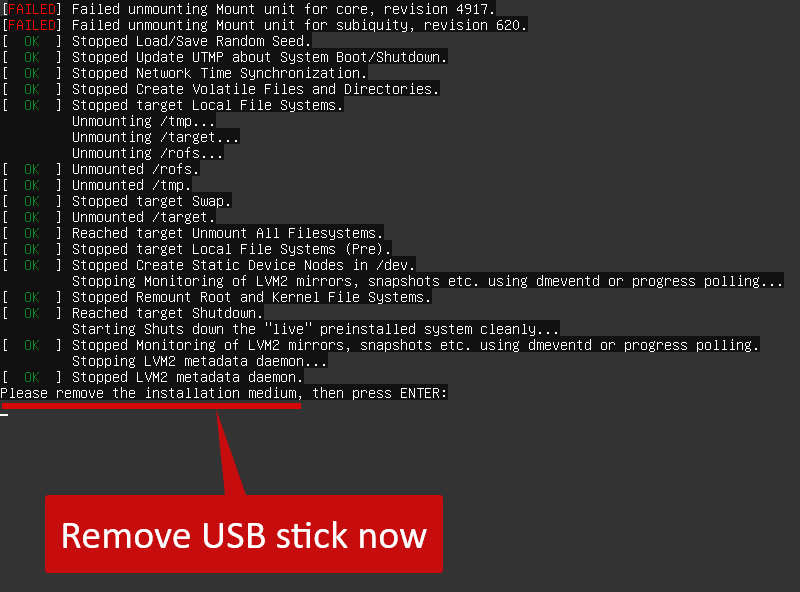 # OS configuration and updates
# First login
After OS installation and reboot, you will see a lot of text, finished by login prompt. Enter username, specified in setup process. If you cannot see login prompt, try to press "enter"
After login process you will see some something like this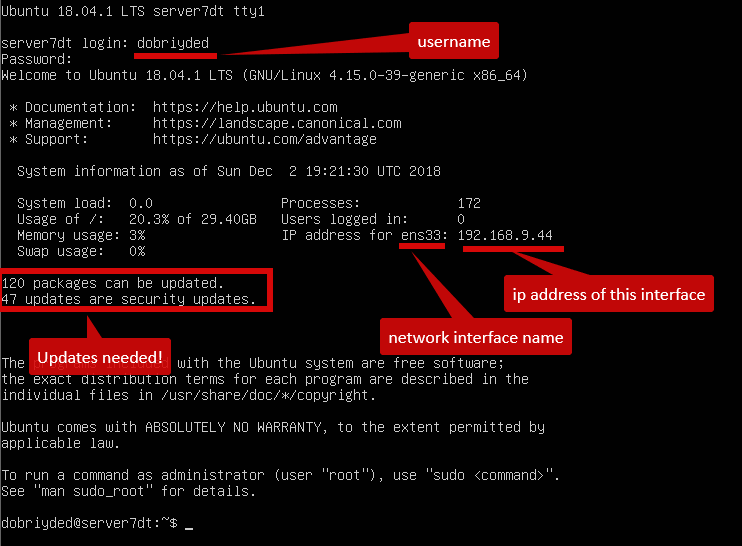 At this moment, if you have problems with network (IP address is not recieved by DHCP or whatever), its time to fix it. Documentation from Ubuntu (opens new window)
Starting from version 18 Ubuntu have another network configuration method (netplan), different from earlier versions. Please check documentation for version 18!
# Update repository list
Repository list should be updated to use 3-rd party application
Use command : sudo add-apt-repository universe
Example
Now we need to update our server with latest patches.
# Patch repository check and update
To check for latest available patches use command sudo apt-get update
sudo apt-get update
Example:
If you not received any errors after command completion, you network seems to be configured correctly.
# Download and install updates
Use command sudo apt-get dist-upgrade
Example:
As you can see, we need 112MB download and 889 kb (less then 1 MB) more of disk space. Just compare it to Windows update size !
Press "enter" or "Y" to continue. Lots of text wll be displayed. Wait patiently for some time and it will be finished. Some warnings possibly can occur, its no big deal, its usualy can be ignored.
Wait for system returns to normal prompt. It looks like [email protected]:~$ (in my case: [email protected]:~$ )
# Setting up remote access
One of the biggest advantages of Ubuntu for using as 7DTD gameserver (comparing to windows) is an ability to set remote access and:
Get rid of keyboard, mouse and monitor
Be able to use a phone or tablet to control
To feel true Linux power in remote control without need of windows cumbersome 3-rd paty remote access apps (teamviewer etc) and flawed RDP
Yes, we use SSH!
Ubuntu server 18.04 have SSH from the box, no need to install anything.
To continue, server IP address is needed. Did you set static IP as i've said before??? If not, return to page start for instructions. If you are not remember IP, it can be asily accessed by using command **ip a **
As you can see above, IP address is 192.168.9.44
To connect remotely to server, you need any SSH client, server IP address and network connection between them. Its easy!
Start SSH client programm
Create new SSH connection
Select server IP address and press "connect".
In connection window you can see the SAME login promt, we met before on monitor.
When SSH connection with server established, you no longer need monitor, keyboard and mouse to be attached to server.
# Open file limit
From my experience of ARK server management, it useful to increase open files limit (rest of article is taken from https://ark.gamepedia.com/Dedicated_Server_Setup#Post-Setup_Management (opens new window) )
To ensure that the host's open files limit is high enough to support the game server:
Add the following lines to /etc/sysctl.conf
fs.file-max=100000
then run the following command via sudo or a root shell to apply the change:
sudo sysctl -p /etc/sysctl.conf
Add the following lines to /etc/security/limits.conf
Add the following line to /etc/pam.d/common-session
session required pam_limits.so
Warning: Without these changes, the game server may not successfully launch. If the server appears to start, but uses a high amount of CPU time without using at least 5.5GB of RAM, it hasn't been able to open all the files it needs and the above change should be applied.
Tuned
is a daemon that monitors the use of system components and dynamically tunes system settings, currently only on RHEL7, CentOS7.x, and Fedora.
Note: You need to set tuned to "throughput-performance". Otherwise all changes in /etc/security/limits.conf will ignored!
# Installation of gameserver software and scripts
We reach the point, where operating system is installed, remote access is set up. Now we can proceed to installing gameserver and additional scripts. To make our server as lightweight as possible, we install 7dtd dedicated server (its different app from 7dtd game) using Valve's STEAMcmd (opens new window) with help of LinuxGameServerManager (opens new window) scripts. Process is really short, easy and INCORRECTLY described in 7DTD section of LinuxGSM site here https://linuxgsm.com/lgsm/sdtdserver/ (opens new window)
# Installing all prerequisites
issue command: sudo dpkg --add-architecture i386; sudo apt update; sudo apt install mailutils postfix curl wget file bzip2 gzip unzip bsdmainutils python util-linux ca-certificates binutils bc jq tmux lib32gcc1 libstdc++6 libstdc++6:i386 telnet expect
This is ONE long string! you need to enter it at once.
You will be prompted for '[Y/n]' to install, answer 'Y'
When "colored" part of install (Postfix configuration) comes to screen, just answer default answer ('Internet site' , enter, enter)
To view example of system output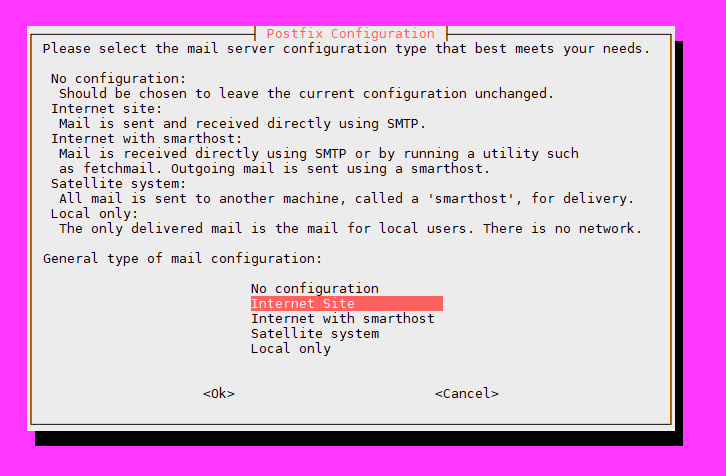 Wait for progress bar to reach 100% and installation is finished. Command prompt ([email protected]:~$) appears
To help yourself in some monitoring task, install some useful additional software by issuing command: sudo apt install atop htop mc
You will be prompted for '[Y/n]' to confirm install, answer 'yes'
Wait for command prompt ([email protected]:~$) to appear
# Creating user to maintain 7DTD gameserver
After then we creating user for 7DTD gameserver with separate home directory to store server-related files. If you want to create 2-nd or 3-rd gameserver on this PC, you can add another users, with different names (sdtdserver1, sdtdserver2 for example) to store separate server files copy. Just make sure you'r hardware can handle it
Issue command: sudo adduser sdtdserver
'sdtd' in username 'sdtduser' means '7 days to die'. Do you remember, 1-st letter of username cannot be digits? So, no '7dtd...' users only 'sdtd....'
After issuing commands starting with sudo , system can ask you a password for main user. Do not confuse!
Password request looks like [sudo] password for dobriyded:
Enter password and it will not bother you by this question again for some time
After sudo adduser sdtdserver you will be prompted to enter some data:
New user (sdtdserver) password
Confirm password
Full Name (just press enter)
Room number (just press enter)
Work phone (just press enter)
Home Phone (just press enter)
"Other" datafield (just press enter)
"Is the information correct? [Y/n]" (just press enter)
Example:
At second line we can see first password request (can be asked or not asked) looks like [sudo] password for dobriyded
Its password request for main user with all privileges, we created firsts, during OS install ("dobriyded")
Second password request (Enter new UNIX password:) is for new user we creating , named "sdtdserver"
Now we switching user to newly created to continue installation. Command: su - sdtdserver
We need to enter password for new user sdtdserver.
Please take a note, command prompt changes from "dobriyded@server7dt:~$" to "sdtdserver@server7dt:~$") to reflect another user become active now
From now on, every time you login to gameserver using SSH to start/stop/update/check alerts or logs etc, newly created username must be used! At first login prompt, use sdtdserver username and appropriate password. DO NOT use dobriyded user
# Installing LinuxGSM
And now we will install managing scripts by command wget -O linuxgsm.sh https://linuxgsm.sh && chmod +x linuxgsm.sh && bash linuxgsm.sh sdtdserver
example:
Now we have LinuxGSM scripts installed and our server tasks become almost automated.
Lets install gameserver files. Command: ./sdtdserver install
And yes, command starts from the dot (".")
Lets check the home dir (/home/sdtdserver) is right and press "enter "
This is relatively long process. Remember, its possible to scroll terminal window up and down with mouse wheel, to show text you did not have time to read
Lets check all steps of install process
# Install troubleshooting
This block reflects log directory creation. It's fairly easy. Every string must finish with OK
Then, checking dependencies and prerequisites
If all are green, skip to next step. Any red-colored line means you did not installed needed module in "Install all prerequisites " block earlier. System will try to install needed files, but fails for sure. User "sdtdserver" have no rights to install packages. Process of "repairing" such failure will be described later (i hope)
Next block - **SteamCMD installs and updates **
We can see it installs correctly. Downloading update finished successfully.
Next step is running SteamCMD to **download 7DTD dedicated server files **
If you seen "Success! App '294420' fully installed" in previous block, press "enter" to let system to know everything is fine.
# Final stage
Configs file are created, system is ready to run.
# Network configuration
# Port forwarding
Port forwarding (opens new window) in a router of your server network, needs to be configured to allow peoples from outside of your LAN to access some gameserver ports, required to connect. It involves NAT (opens new window) and FIREWALL (opens new window) configuration of your router. This procedure is different for each router model and cannot be briefly described in this article.
You need to read the router manual and configure it as follows :
| Port | Type | Comment |
| --- | --- | --- |
| 26900 | TCP | Connection port |
| 26900-26902 | UDP | Gameplay ports |
| 8082 | TCP | If you are using CSMM or Alloc's mod web map |
| ???? | | If you plan to manage your server remotely from outside by using SSH without VPN. Use any allowed WAN port to hide SSH connection port from unwanted attention |
If you plan to manage your server remotely from outside by using SSH without VPN.
Use any allowed WAN port to hide SSH connection port from unwanted attention
The default port configuration is assumed! Port numbers can be changed in the configuration .XML file with the appropriate changes to the port forwarding table above.
It's not recommended and totally insecure to port forward telnet and webconsole ports (8080, 8081)
This section from official manual can help you https://developer.valvesoftware.com/wiki/7_Days_to_Die_Dedicated_Server#Port_Forwarding (opens new window)
But be warned! Its for A16, not A17 version
# Router firewall
After ports are opened in previous chapter, you need to configure router firewall to allow connection from outside.
# Server firewall
By default server firewall is disabled. You can enable it and configure it for additional security, but this section is not covered here and should be studied on your own.
# Traffic prioritization
To increase gameplay stability, it's wise to give a traffic to/from server a high priority.
Please check your router manual for instruction
# First time server start
Remember to login with user sdtdserver to perform any action with server (start/stop/update etc.)
Command prompt should looks like sdtdserver@server7d:~$ . If you see another username instead of sdtdserver, change active user by issuing command su - sdtdserver
# Switch to X64 version
In some cases, steamcmd cannot recognize you'r have x64 processor and starts x32 version of gameserver
It can lead to memory issues very soon. Dont skip this section!
Enter command as sdtdserver user: nano /home/sdtdserver/lgsm/config-lgsm/sdtdserver/sdtdserver.cfg
CFG file will be opened in text editor. It should looks like this
If you see empty file, exit (press ctrl-x) and double check file name and path!
Carefully edit this file to add 2 lines on the bottom and make it looks like this:
When file is edited, press CTRL-O (file name will be displayed at the lowest part of a screen.
Press "enter" to write
press CTRL-X to exit
# Starting server
Issue command ./sdtdserver start
example of FIRST start output
During very 1-st run, script fetches all needed modules from the web. Next run there be much less data and it should looks like in example below
Example of NOT first start output
Server will start in the background. to chesk "whats goin on" you can run command ps -fax
As you can see from the example above, process with PID 9148 running in tmux session with "7DaysToDieServer.x86_64" executable and sending log output to /home/sdtdserver/log/server/output_log2018-12-0309-42-08.txt file
If you see ./7DaysToDieServer.x86 instead of ./7DaysToDieServer.x86_64 this is very bad, and you need to go back to the top of the page and carefully repeat 'Switch to X64 version' step
# Connecting from LAN
Its time to check our server.
Start '7 Days To Die' game on your main PC and select "connect to server", then choose local (LAN) servers. Server should appear here in 2-3 minutes after start command
Try connecting to make sure server is working normaly and accept players.
Exit game and stop the server by issuing command ./sdtdserver stop
To connect successfully, game version of 7DTD on a PC, you are connecting from, must be equal to version on gameserver!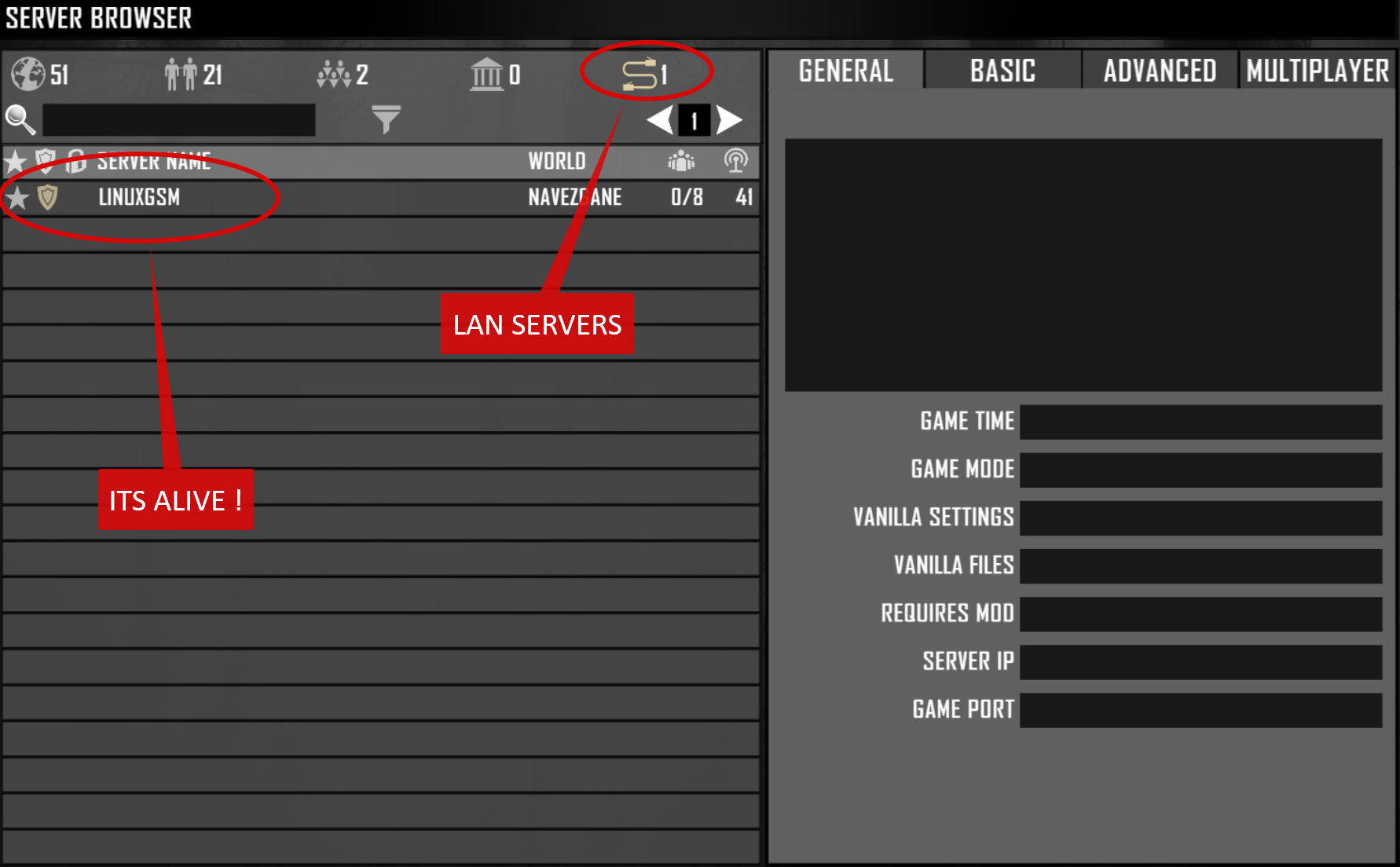 # Stop server
Stop gameserver by issuing command ./sdtdserver stop